GRÉGOIRE BEAU: DIRECTOR
Contact Gregoire
Grégoire attended high School in Tahiti and received his Degree in Tourism Management from U.E.T. Paris in 1997. After graduating he spent ten years promoting the Islands of Tahiti for leading Tour Operators in Paris. He then spent the next ten years in various management roles; at a Luxury Tahiti Resort, and at DMCs located in both French Polynesia and the Seychelles. Before joining Legends Travel Group he had his own company that provided high-end concierge services for clients of the North American brands; Tahiti Legends and Tahiti.com. He has a passion for luxury travel and a proven track record for providing exceptional customer service.
HIS FAVORITE TAHITI EXPERIENCE
"I love sailing in the French Polynesian islands. The feeling of being at one with nature in the most isolated location on the planet is intense. I feel like a waterman, I feel like a local and I love it."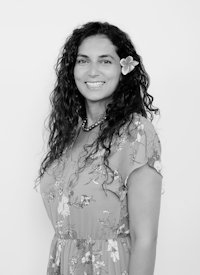 BAHIA EL MAHI: RESERVATION MANAGER
Contact Bahia
Bahia joins our team as Reservations Manager after having spent fifteen years as the Tahiti Specialist for a leading Tour Operator in France. Before deciding to move with her family to French Polynesia Bahia also worked as a Travel Designer for a Paris-based Luxury Travel Agency. Thorough, attentive and passionate about her work, Bahia will be delighted to help you craft tailor-made itineraries to our idyllic islands. She maintains close relationships with all our local suppliers, ensuring that she can provide; the best offers, the latest accommodations, creative itineraries, and the best selection of quality activities.
HER FAVORITE TAHITI EXPERIENCE
"Once, I was privileged to stay a couple of weeks with a Polynesian family. We shared some deep and authentic moments together. I just love their lifestyle; fishing, dancing, laughing and eating with them are among my best experiences of French Polynesia, especially my 'Fafaru' tasting.""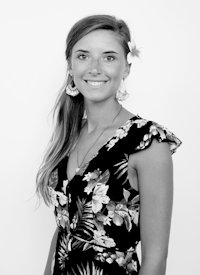 CLÉMENTINE DU BOISTESSELIN: TRAVEL CONCIERGE
Contact Clémentine
Clémentine studied Tourism in her home city of Paris, before traveling the world for several years. She started her tourism and hospitality career in Australia & Spain before joining a leading Travel Agency in Paris where she was the Tahiti Specialist for over four years. Driven by her love of French Polynesia and her adventurous spirit, she has explored many of the islands of the Marquesas, Austral, Tuamotu, and Society archipelagoes. Clémentine is your perfect resource for planning sophisticated adventures or getting a table at one of Tahiti's hot restaurant spots.
HER FAVORITE TAHITI EXPERIENCE
"I fell in love with the destination because of the amazing blue lagoon. I can spend all day snorkeling in the crystal clear water getting close to the turtles, rays, colorful fish, or just exploring it by paddleboard, or kayak. The lagoons are so calm and pristine - they never disappoint. I also love swimming with whales, sharks, and dolphins, outside the lagoon in the deep blue and wildly energetic ocean."
HEIFARA BARFF: TRAVEL CONCIERGE
Contact Heifara
Heifara's family is from Fakarava of the Tuamotu Atolls and Taha'a of the Society Islands. She grew up on the main island of Tahiti. She studied "Traditional Polynesian Arts" at the Conservatory of French Polynesia. After participating in many Heiva Festivals as a professional dancer, she opened her own school of Ori Tahiti dance in Tokyo, Japan. She returned to French Polynesia in 2016 and began her tourism career as a concierge for a luxury resort before joining the TAHITI.COM concierge team in 2019. Heifara loves to share her knowledge of the Polynesian culture, and takes pride in organizing unique cultural experiences for her guests.
HER FAVORITE TAHITI EXPERIENCE
"I love Tahiti Iti, where the road stops in the smaller island of Tahiti. This area, called Te Pari or Fenua Aihere, is known for being the wildest of Tahiti. From this point, you must venture on by boat to reach the remote and pristine spots where the Polynesian culture is totally preserved. I like this way of life, the beauty of the nature, and the very special energy of Teahupoo."